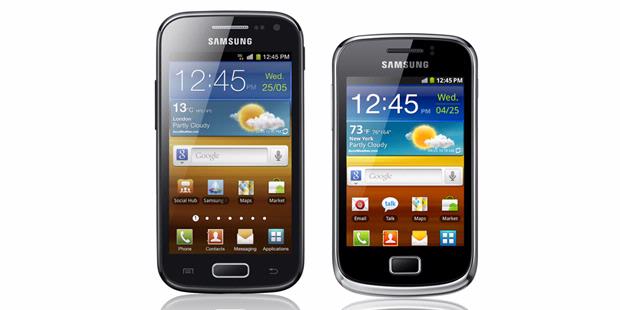 Samsung re-add the smartphone product line of Android-based Galaxy family. On Tuesday (2/21/2012), the South Korean manufacturer has introduced two new products, the Galaxy and Galaxy Ace 2 Mini 2.
Galaxy Ace 2 is reinforced with a higher specification hardware than its predecessor, the Galaxy Ace. Galaxy Ace 2 dual core 800MHz processor, 768MB RAM, 4GB internal memory with MicroSD slot, and runs the Android operating system 2.3 (Gingerbread).
Screen size and resolution of the Galaxy Ace 2 is also improved. Spans a 3.8-inch WVGA screen resolution of 480x800 pixels. From the camera, the Galaxy Ace 2 has a 5MP camera with LED flash and VGA front camera, just like Galaxy Ace.
Improved specifications are also experienced by the Galaxy Mini 2. This smartphone is equipped with 800MHz processor, 512MB RAM, 4GB internal memory with MicroSD slot, and running with Android Gingerbread.
Galaxy Mini 2 screens designed larger, 3.7-inch HVGA resolution is also improved, 320x480 pixels. However, it remains a 3MP camera, without the LED flash and front camera.
Galaxy Ace 2 will be available first in the UK in April, while the Galaxy Mini 2 will be marketed in France next month, next new circulating throughout the world.
Samsung has not provided information about the price of this smartphone
Artikel yang Berkaitan